01 Mar

How Do you Wait Well?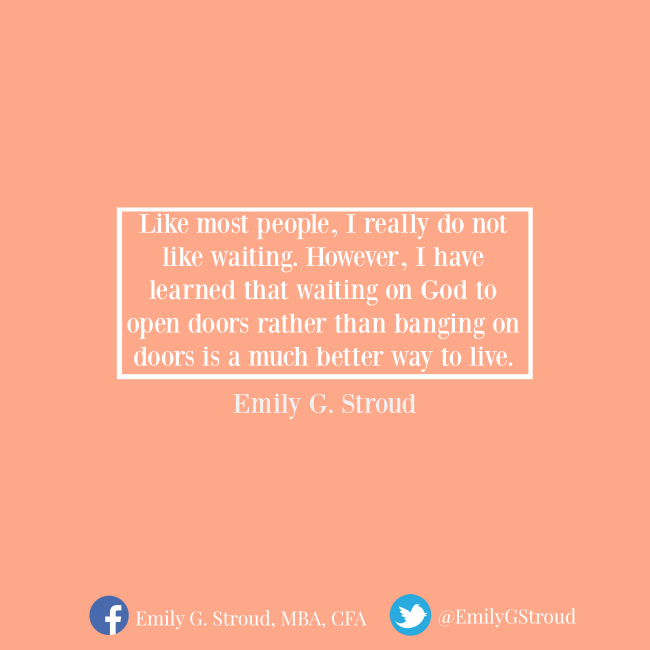 Some of life's most defining moments occur during seasons of waiting. I think that's why it's so difficult. Lack of control and uncertainty makes us terribly uncomfortable.
What have you waited for in your life, both exciting and difficult? Your wedding day? The birth of a child? A medical diagnosis? A call from an estranged family member or friend? A promotion at work?
Right now I'm waiting to hear news that will take my career in one direction or the next. I'm waiting for a phone call that has the potential to change the trajectory of my life.
Like most people, I really don't like waiting. However, I have learned that waiting on God to open doors rather than banging on doors is a much better way to live. I've also learned that He does answer each and every time I call on Him.
How do you prepare your heart for the Yes' and No's that we all undoubtedly receive in this journey called life?
Isaiah 40:31 teaches us, "Those who hope in the Lord will renew their strength. They will soar on wings like eagles; they will run and not grow weary, they will walk and not be faint." What does that mean to you? For me, I believe there is something holy about waiting. It teaches us to persevere. I love the theological definition of perseverance:
"Continuance in a state of grace until it is succeeded by a state of glory; sometimes called final perseverance."
Practically speaking, what tools can we utilize to wait well and persevere during uncertainty? One tool God has given us to wait well is the gift of remembrance. When we remember how He has already blessed and protected us mercifully in the past, we can look forward with hope to the future. One way to do this in our daily lives is through journaling. When we get weary during times of waiting, our journals provide unique handwritten accounts of how God answered our specific prayers in the past. It reminds us that we can trust Him.
Secondly, instead of gripping what we want and hope for with clenched fists, we are much more at peace when we open up our hands and surrender the outcome to God. It is hard to be anxious when we sit in a posture with open hands facing upward toward heaven. It is a physical act of surrender and it is quite powerful.
The last and most powerful tool that God has given us to wait well is His promises of truth found in scripture. His word reminds us that His plans will never be thwarted and His timing is always perfect. So, as I wait for the phone call, I will continue to meditate on the following scriptures.
Proverbs 8:33-35: Listen to my instruction and be wise; do not disregard it.

Blessed are those who listen to me, watching daily at my doors, waiting at my doorway. For those who find me find life and receive favor from the Lord.

Proverbs 3:5-6:  Trust in the LORD with all your heart, and do not lean on your own understanding.  In all your ways acknowledge him, and he will make straight your path

 Isaiah 30:18:  Therefore the LORD waits to be gracious to you, and therefore he exalts himself to show mercy to you. For the LORD is a God of justice; blessed are all those who wait for him.

 Lamentations 3:25:  The LORD is good to those who wait for him, to the soul who seeks him.

 Micah 7:7:  But as for me, I will look to the LORD; I will wait for the God of my salvation; my God will hear me.
I would love to hear how you have learned to wait well in your life. What tools do you utilize to sustain yourself during times of waiting?
Please comment below so we can all learn from one another.