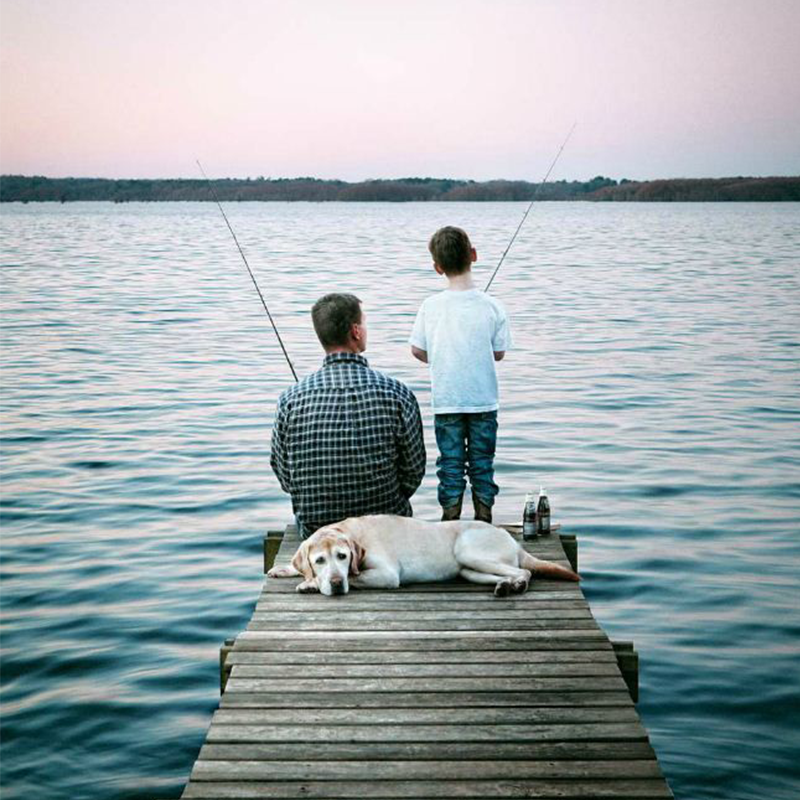 01 Feb

Teach Them to Fish

The wise man saves for the future,[a] but the foolish man spends whatever he gets. Proverbs 21:20 (TLB)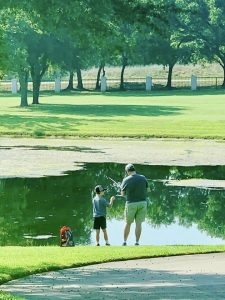 I stumbled across this scene today of my sweet husband and my 10-year-old son. They didn't know I was watching them from the kitchen window. It felt like a sacred moment. There's nothing sweeter than a father teaching his son to fish. You can give a child a fish and they will eat for a day. However, if you teach them to fish, they will eat for a lifetime.
What does eating for a lifetime really mean? For me, it's the idea of being equipped and prepared for life as an adult. As a mother, I believe we're called to equip and train our children. It certainly isn't a glamorous process, but it is a divine calling. We should equip our children with life skills for survival, but we also need to equip them with God's TRUTH. Interestingly, parents often overlook teaching their kids how to properly manage money. I suspect this happens because the parents were never taught how to "fish" when it comes to finances.
The Bible talks a lot about money (See Matthew 6:33, Deuteronomy 8:18, Luke 14:28, and 1 Timothy 5:8). If I see a topic mentioned multiple times in scripture, I listen. God has specific instructions for us on how we should manage our finances. The Holy Spirit also wants to set you free from the lie that having money is bad.
Money is not evil. It's actually a tool that if managed wisely, will bless our families and allow us to bless others as well. God doesn't want us to continue to argue with our spouses about money. He doesn't want us to live in fear of paying our bills each month. He definitely doesn't want you to be one broken appliance, or unforeseen medical bill away from financial disaster. However, in His sovereignty, God may allow these circumstances in your life to get your attention. If this is where you find yourself today, please know that there's HOPE for you.
Money can be an intimidating subject. Let's work together to change the paradigm of fear as it relates to money. When you take the time to learn wise financial principles, you're then equipped to pass it along to the next generation. Our children are looking to us for wisdom and guidance. A wise friend reminded me recently that we're not raising children. We're raising young adults.
The first step to achieving financial freedom is to have a detailed monthly budget in place. We have to be honest with ourselves about how we're spending our money. If you're married, this is also a fantastic tool to open the lines of communication about your household finances. The number one objection to having a budget is creating it.
To start you off on the right track, I have a special gift for you. I'm giving away a FREE budget worksheet. I encourage you to download a copy and take the first step forward on this new journey. Be prepared to be surprised. Most of us go over our monthly budget one small expense at a time. However, once we become mindful of our spending habits, we can make changes that will allow us to spend less than we make. Then we can move to step two which is to start a savings plan. I recommend having at least 3 to 6 months of living expenses in cash, as an emergency fund. These two strategies will start you on a path to financial freedom.
As we begin to make management of our money a priority, I suggest also having conversations with our children. Let them know why this is important, and then model for them how to make wise financial decisions. Our children are watching us. Whatever we do in moderation, our children will do in excess. #FaithfulFinance
Prayer:
Heavenly Father, we ask forgiveness today for the way we have mishandled our finances in the past. Please forgive us for leaving you out of our financial decisions. God help us to learn your principles for managing our money so we can live without fear and anxiety. Please give us strength and wisdom today to create new healthy habits as it relates to our money.
In Jesus' Name,
Amen.
Truth for Today
Proverbs 21:5 Good planning and hard work lead to prosperity, but hasty shortcuts lead to poverty. (NLT)
Related Resources:
To learn more ways to achieve financial freedom according to Biblical principles, please grab a copy of my latest book: Faithful Finance: 10 Secrets to Move from Fearful Insecurity to Confident Control.
I'm also very excited to announce the launch of Faithful Finance LIVE, which is now streaming on PureFlix. They're generously offering a FREE trial for 7 days so you can join me in my home. It's a peaceful setting to talk about our hopes, dreams, and fears as it relates to money. I want to bless you by giving you more practical tools and tips so you can learn to manage your money, so it doesn't end up managing you.
Please comment below and let me know what topics are important to you. What causes you to lie awake at night? I want to answer your questions and put your mind at
ease. #FaithfulFinance
Footnote 1: This is a quote from Chinese philosopher Lao Tzu