08 Mar

The King and I

Posted at 05:23h

in

Faith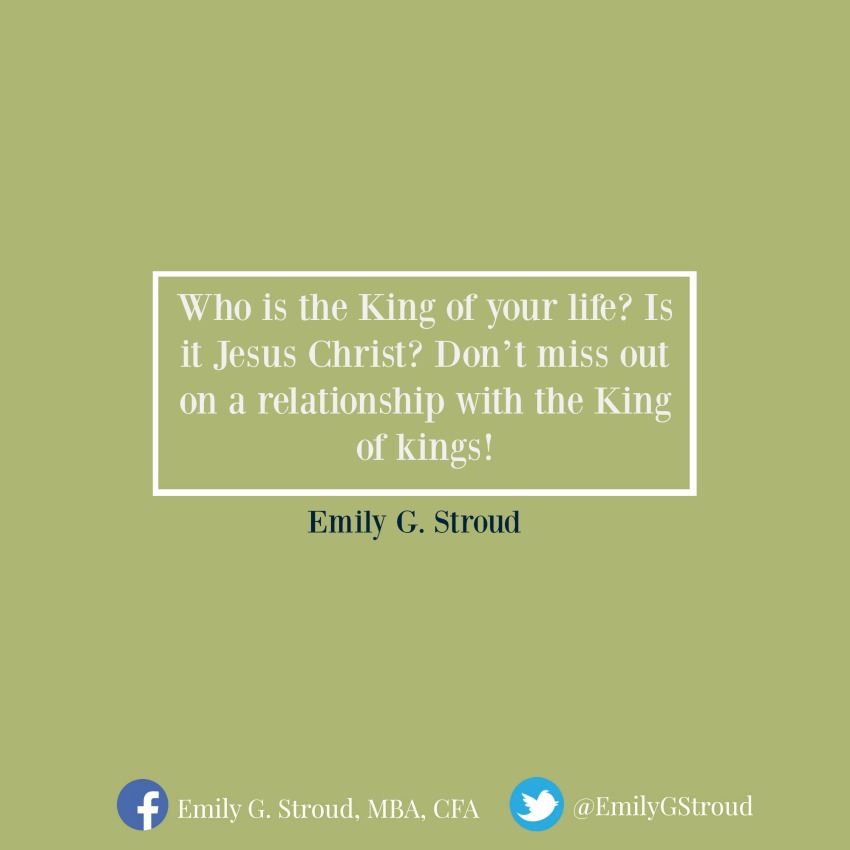 According to Wikipedia, Christ the King is a title for Jesus Christ. It refers to the concept of the Kingdom of God where Christ is seated at the Right Hand of God.
Since last fall, I have been working out at a new gym. When I started my new workout regimen, I really thought that I was going to the gym to get my body in shape. However, God works in mysterious ways. You think you are doing something for one reason, and His plan is actually so much better for you than you ever could have imagined. He really is a good, good Father.
So how does Christ the King intersect this story?
The name of my personal fitness trainer is King. Yes, that really is his God-given first name.
The more that I get to know King, the more he is a living, breathing refection of The King of kings. Through difficult physical exercises and weight training, he pushes me beyond my pre-conceived physical limits. He lovingly disciplines me, encourages me, stretches me, and is helping to mold me into a better version of myself.
I would not consistently work out at the gym if it were not for the encouragement of King. If allowed, I can come up with numerous reasons for skipping my regularly scheduled workout.
Much to my chagrin, I cannot hide from King, just like I cannot hide from Jesus. They both keep tabs on me. If I tell King that I am too tired to work out on any particular day, he happily responds, "I am so happy you are tired. That means you are working hard. What a blessing! I can't wait to see you at the gym today." I sigh . . . and then I put on my tennis shoes.
King reminds me quite often, "Emily, there are no shortcuts. Being healthy and fit requires discipline and commitment. The same goes for your spiritual life. You need to stay in the Word and stay connected to your Heavenly Father through prayer." Just like my Heavenly Father, King sees all of my shortcomings and still believes that I can be used for a bigger and greater purpose.
In essence, God says to me:
"Emily, in order to teach people about Jesus and how to handle their finances in such a way that they can live a more fruitful and peaceful life, you must be sharp physically, mentally, and spiritually. I am here to support you. I believe in you. I am on your team."
King is very well known for the following phrase: "Not to worry." He uses it in every context imaginable. It reminds me of how our Heavenly Father responds to us as well. The conversations go a little like this:
Me: "Good morning King! Sorry I am late today."
King: "Not to worry. I am glad you are here. I have been waiting for you and I am proud of you for making the effort to come today."
Me: "That barbell is too heavy for me. I cannot lift it by myself. I just can't do it."
King: "Not to worry. I will help you. You are stronger than you think you are. You can do this. I believe in you."
Me: "I cannot come today because I do not have childcare for my kids."
King: "Not to worry. Bring the children here. They are always welcome."
Me: "King, I am discouraged. My burden is heavy today."
King: "Not to worry. Rest in the knowledge that today, no matter what your shortcomings, you will definitely have Grace to finish the day well."
Me: "King, will you pray for me and my ministry today?
King: "Not to worry Emily. I pray for you every day. It is my honor to walk beside you in this season of Jesus lifting you up, because you are lifting Him up through your ministry as an author. I am excited for you and I pray that you have His wisdom, discernment, grace, and peace in these and the coming days."
Who is the King of your life?
I pray that it is Jesus Christ. He is the most loving encourager, protector, and friend we will ever have in this life and in eternity. Don't miss out on a relationship with the King of kings!